Can you see clearly now? You will soon.
ClearViewer
ClearViewer




Your eye goes right up to the ClearViewer lens, like a traditional viewfinder. The camera screen is clear with your eye only 2 inches away, and the camera is much more stable when held up to the eye. The ClearViewer folds flat against the screen for storage, keeping the camera nice and compact, yet it folds out easily for use. To use the camera screen without the viewer, just push it down with a finger and it's out of the way.

Much of the ambient light that would cause reflections or glare on the screen will be blocked by your head being up close to the camera. If there's glare from the top or side, it can be blocked easily by your free hand as a "hood".

A single screw mounts it to the tripod socket, and a coin is all you need to tighten it, or to loosen it for removal. When possible, we avoid blocking battery or media doors, however with some cameras it's simply too close to avoid.

If you find this viewer as useful as I do, you probably won't be removing it very often. But if you're just out "snapshooting" and know you won't need it, just loosen the single screw, and store the viewer (using the included storage bag) somewhere convenient. It's compact, and easy to put back on when you need it. (hint: keep it with you, or leave it on the camera. Once you get accustomed to the nice sharp clear view you'll be using it a lot)

It's also great for reviewing photos, to check your focus and all the details while you can still re-shoot the photo if needed.

ClearViewers are individually manufactured in our shop, to fit virtually all compact cameras, and also many larger cameras up to DSLR-size. Be sure to specify your camera make and model when ordering. We make them to order and ship within a few days.

Price: Preimum-lens model $53 USD, Standard-lens model $35 USD

Click here for the order page

The tripod-socket ClearViewer
The tripod- mount viewer folded for storage.
The tripod-mount viewer extended and in use.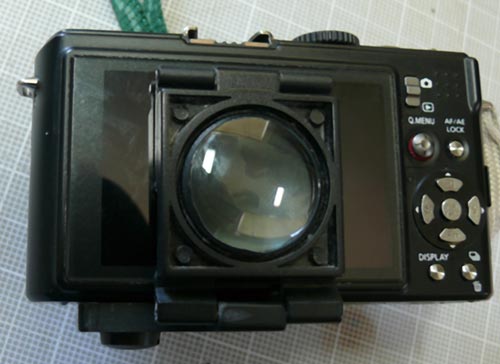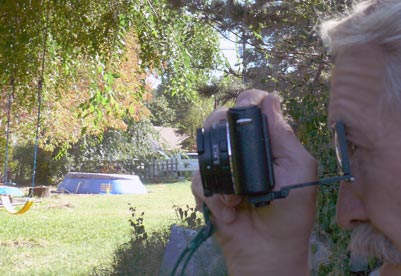 Off the camera, it folds flat and is easy to take along in a pocket.