Can you see clearly now? You will soon.
ClearViewer
ClearViewer




The hotshoe version was the first model I made. Its first trial was in Yosemite National Park on a bright, sunny day in the snow, taking action photos of sledding and snow play, and it worked beautifully. It enabled me to use the camera (following action and clearly seeing what I was shooting) in numerous situations where it was otherwise impossible.

While the lens flips up out of the way, for using the screen normally, it does not fold flat against the camera like the tripod mount model does. When storing the camera in a case, or on a neck strap, the viewer should be removed (it just slips out of the hotshoe). The folded viewer easily fits in a pants or shirt pocket when you're not using it.

Further testing at a music festival led me to develop a different model, the tripod-socket version, to overcome the one shortcoming I found with the hotshoe mounted model. Since I was shooting candid and fleeting photos, I needed something that could stay on the camera all the time so it would be instantly ready, yet still let me slip the camera in a pocket or case. This is the reason I generally recommend the tripod socket model for most users.

However, for those who may find they only want to use the Clearviewer occasionally, or in a situation (such as on a tripod, waiting for a shot) where having to get the ClearViewer out and slip it in the mount isn't a problem, the hotshoe model fills that need nicely. And, if you use a custom-fit camera case or accessory that won't allow use with the tripod socket model, the hotshoe version is a good alternative.

Like the tripod mount model, these viewers are individually made to order in our shop for each camera's specs. In general, the hotshoe should be no more than 3/8" (9mm) off-center of the screen, and no more than 3/4" (18mm) above the top of the screen, but in some cases we can overcome those limitations.

Price: Premium lens model $40 USD
Standard lens model $25 USD

Click here for the order page
The hotshoe-mount ClearViewer
The hotshoe-mount model folded flat for storage
The hotshoe-mount model in use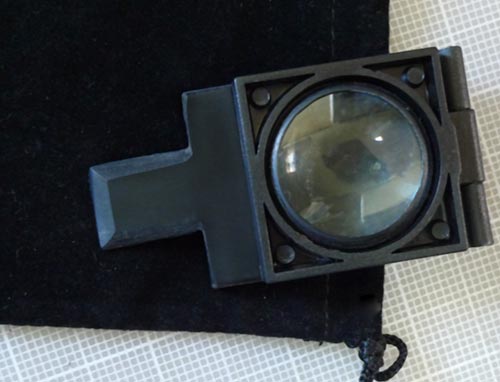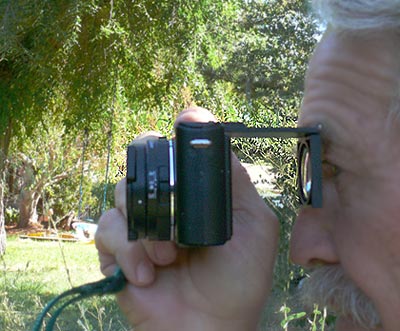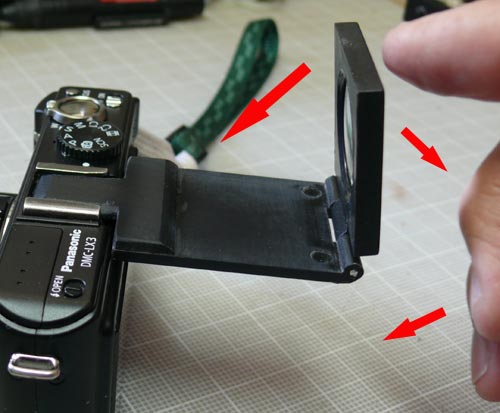 The lens easily flips up out of the way if you need to see the camera screen normally.