Can you see clearly now? You will soon.
ClearViewer
ClearViewer




The ClearViewer is a folding corrective lens which lets you see clearly and focus on the camera screen with your eye right up to the lens, less than 2 inches/60mm away from the screen. The camera screen then functions as a large, easy-to-view electronic viewfinder, allowing you to see small details in all sorts of lighting.

The tripod socket model folds tightly against the screen so it doesn't add a lot of bulk to your compact camera. It unfolds easily and quickly for use, and can just swing down out of the way if, for some reason, you want to view the screen in the normal way. If you're not likely to need it for a while, the ClearViewer is easily removed using a coin in the single mounting screw.

For most users, the tripod-socket-mount model is probably the best choice, since it can stay on the camera and be ready for quick use whenever it's needed. It gives you the advantages of a good viewfinder, yet your camera remains compact.

Click for more information
Click here to order

There's another option for some cameras.
The Clearviewer hotshoe-mount model will fit cameras that have a flash hotshoe reasonably near center, and not too high above the screen. If your camera has a custom-fit leather case or special handgrip, or if you may only want to carry the ClearViewer with you in a pocket for occasional use, some may prefer this one. It's easily removed when you put the camera in a case or pocket.

The hotshoe model does not fold flat against the screen, which is why it's removed between uses. The positive side of this is that, aside from not interfering with custom-fit camera cases or accessories, it provides a somewhat more solid, unyielding surface that won't get pushed out of place in bumpy situations. The negative side is that when you need it quickly, you will need to fetch it out of the pocket or case and slip it into the camera, possibly missing a fleeting shot.

If you're in doubt as to whether your camera's hotshoe is properly located for using the hotshoe-mount ClearViewer, please contact us so we can check your camera's specs. In general, the top of the screen should be no more than 3/4"/18mm below the hotshoe, and the hotshoe should not be more than 3/8"/9mm off-center.

Click here for more information
Click here to order
Products
The tripod- socket- mount viewer folded for storage.
The tripod-socket-mount viewer extended for use. The 1" diameter lens is extended to about 2 inches from the screen surface.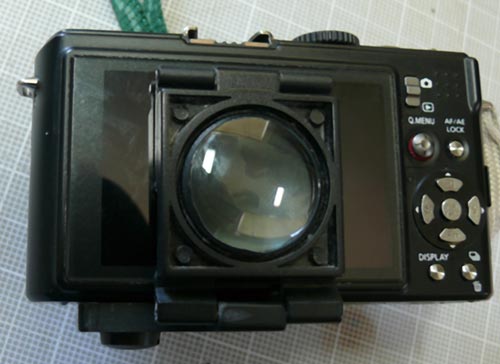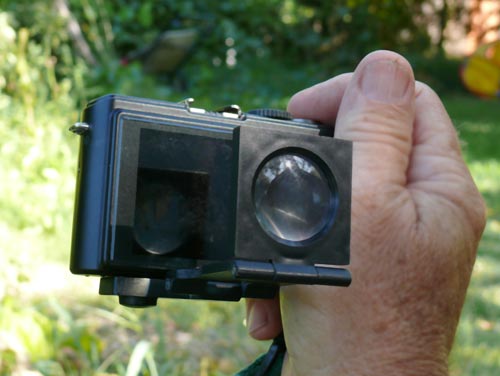 ClearViewer models folded, viewed side-by-side. Left, hotshoe model. Center, tripod socket model for removeable-lens cameras. Right, tripod socket model for camers without removeable lenses.
Note: actual design varies with camera model to match camera's specs.